I want to share the first cover draft of Love in a Dying Town.
The backdrop is the dying factory town where Jim Bowen is trying to raise his daughter Lily with decay all around them. What does she think about it all? He doesn't know. But love can still grow anywhere like a flower up through the concrete.
Here's the cover: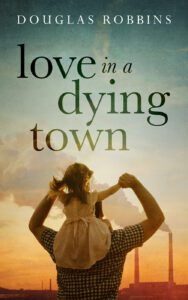 Love in a Dying Town will be released on 5/20, and I hope to count on your purchase, but not so I can take your money. Though, if you bought 10,000 copies, I'd be happy to. Seriously though, it's for sales ranking and visibility.
The only way for a flower to grow is by watering it, enough sunshine, and the right environment to blossom. If not, it dies without ever being seen.
The same is true for all art, love, restaurants, and building a house; it really does take a village to get anything off the ground…
Pre-orders will be available soon. Stay Tuned.
Thanks for the support. Have a great day.
DR
Please share on social media, and spread the love.