A Cosmic Odyssey of Self-Discovery and Redemption
Author of this review: Maccabee Griffin, Host of Beyond the Pen
Narican: The Cloaked Deception, penned by Douglas Robbins, is a genre-defying journey that seamlessly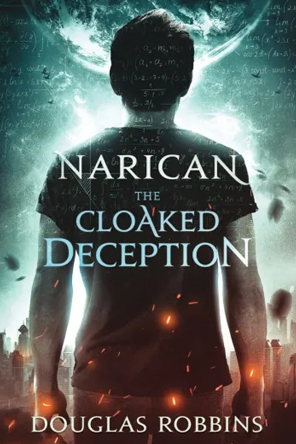 weaves elements of science-fiction, fantasy, philosophy, mysticism, and mental health into a tapestry of cosmic proportions. This novel takes readers on an exhilarating ride through the realms of human nature, the eternal struggle between good and evil, and the quest for self-discovery and enlightenment.
The story revolves around Reuben Mitchell, a seemingly ordinary young man who is blissfully unaware of his extraordinary destiny. Born on Earth through surrogates, Reuben is the last of the Sun Clan, the guardians of the soul's highest order. As he ages, the nefarious Toxic Whisperers, an enigmatic and evil force, set their sights on him. These creatures threaten Reuben's existence and the very fabric of human evolution.
One of the novel's strengths is its multifaceted exploration of the human condition. Reuben's struggles with a torn mind and the toxic influences of the world around him serve as a metaphor for the mental health battles many face in our reality. The author deftly portrays the frustration, confusion, and isolation that often accompany such struggles, making Reuben a relatable and empathetic character.
Amidst this turmoil, Reuben's journey intertwines with Tanz, the Accountant, the Seer, and the Record Keeper of Narican. Stripped of their evolved powers by the Toxic Whisperers, these characters share Reuben's quest to unravel the evil plans threatening humanity's existence. Together, they grapple with questions of identity, the duality of human nature, and the eternal struggle between light and darkness.
At its core, Narican: The Cloaked Deception is a tale of self-discovery and redemption. The characters seek not only to protect Earth but also to evolve as human and spiritual beings. The novel's profound exploration of the limitations of the human condition—how our bodies and minds often hinder our quest for enlightenment—resonates deeply with readers. It invites us to contemplate our inner struggles and the ever-present battle between our higher and lower selves.
Readers will immerse themselves in a richly developed world filled with intricate mythology, vividly described landscapes, and enigmatic beings as the narrative unfolds. The story's philosophical underpinnings add depth and complexity, inviting readers to ponder the age-old questions of morality, existence, and the nature of good and evil.
In Narican: The Cloaked Deception, Douglas Robbins has crafted a captivating and thought-provoking odyssey that transcends traditional genre boundaries. This novel is a profound exploration of the human experience, a thrilling cosmic adventure, and a meditation on the eternal struggle for enlightenment. Readers who embark on this journey will be rewarded with a rich and immersive narrative that challenges their perceptions and leaves them pondering the intricate dance between light and darkness within us all.