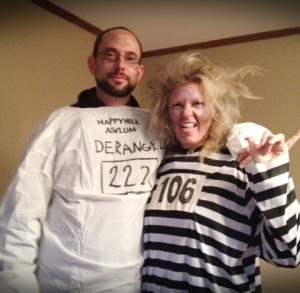 So I put on a costume to escort Jen and the kids. We drove to the good neighborhood with houses close together. As we drove I thought to myself , "another Halloween with no candy other than what I can persuade out of the kids."
As usual when we got close I asked Adam to share some candy and he said he would.
We parked the car. I grabbed an extra bag for the kids in case one of theirs broke. Then I started walking and realized, Fuck it, I can get my own damn free candy!
At the first house Jen waited in the driveway as Adam and Jessica walked up. I followed right behind them with a thick beard that no one could mistake for a child's.
Though filled with shame I pushed that aside in my desire to score some free treats. No trick. But with each successive home shame greeted me at each door as I said, "Can I also have a piece of candy, you know trick or treat."
One older lady looked at me like: that's sad and because it is sad, yes, you can have a piece of candy.
Luckily I was wearing a costume from an insane asylum that I had Jen write DERANGED on the front. So, I worked the angle that I was just let out.
"Yes, I'm deranged and was just let out after twenty plus years. My childhood was taken away…Trick or Treat." I smiled with the bag out in front of me. The door answerer's were usually not sure if I was serious. That got me a few more pieces.
That's when the politically correct mom in the driveway thought I must be the kids retarded older cousin who still thinks he's twelve, but in a man body.
"You must be deranged." She swiveled and said as we walked by.
"I am indeed. Trick or Treat."
Whatever the case I walked away with a nice stash of the best chocolate and sugary treats my money didn't have to buy.
Halfway through the neighborhood Jen took over. Her hair was done like a crazy drunk woman who had fallen off a ladder and hit every wrung on the way down. Blond hair stood in all directions shellacked with hairspray. While the smeared black on her face made her look like she had been sleeping in the mud for the last three days until she came to.
Now I stood in the driveway awaiting her spoils.
I could hear Jen's angle to the door openers after the kids got theirs.
"Moms need candy too." She said and stuck out her bag.
At the next house, "Shameless mom needs chocolate fix." I could hear her shame in each word spoken.
One old guy looked at her with pity. His wrinkled face said something like Do you really go out in public like this? At least brush your hair. He slowly placed the chocolate in her bag.
The shame didn't defeat us this Halloween and we all went home with a bag full. Next year Jen will probably have on a different costume and brush her hair. I probably won't shave, but we will still be shameless.